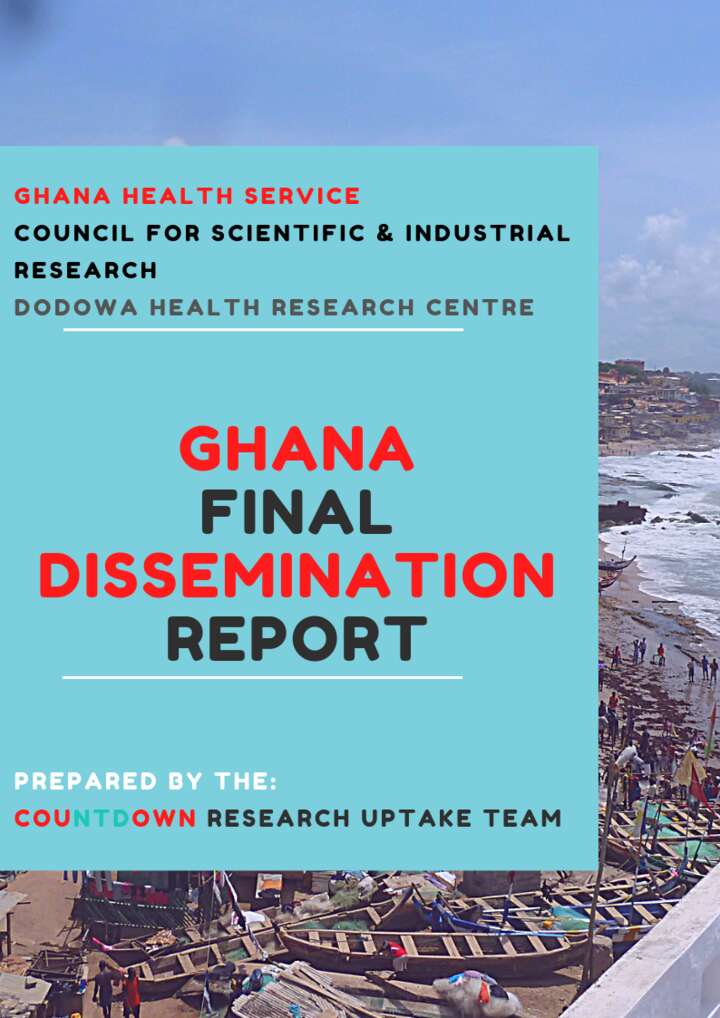 On 29th August 2019, COUNTDOWN partners in Ghana - the Ghana Health Service (GHS), Council for Scientific & Industrial Research (CSIR) and Dodowa Health Research Centre (DHRC) gathered neglected tropical diseases (NTDs) experts and health practitioners from across the country in Accra.  This final dissemination workshop of research undertaken by the team in-country, was organised with the main objective to engage NTD policy makers, researchers, medical and health practitioners, including non-governmental organisations (NGOs) working on NTDs to discuss the results and map a way forward to introduce NTD programmatic changes for improved and efficient service delivery, ensuring no one is left behind.
This workshop was attended by over 60 participants who learnt about the COUNTDOWN work on expanding access to schistosomiasis (SCH) and soil-transmitted helminthiasis (STH) treatment using praziquantel and albendazole in areas with persistent transmission; both parasitology and social science research in contextualised hotspots of Lymphatic Filariasis (LF) and engaging in a cross-sectoral collaboration with the Global Polio Laboratory Network in Ghana to screen almost 500 stool samples to test for schistosomiasis (SCH) and Soil-transmitted helminthiasis (STH).
Dr Benjamin Kofi Marfo, the Ghana NTD Director at the Ghana Health Service and COUNTDOWN Country Director, gave a national overview on programmes relating to Integrating Female Genital Schistosomiasis (FGS) into Country Health Programmes and updates on the Ghana Neglected Tropical Diseases programme activities for 2019 especially activities prioritised by the NTDs Programme 
Dr Samuel Armoo who heads the Biomedical and Public Health Research Unit at the Water Research Institute – Council for Scientific & Industrial Research and leads the COUNTDOWN parasitology research component on expanded access for schistosomiasis (SCH) treatments reported on the key outcomes of the expanded treatment using PZQ in three SCH endemic communities in Southern Ghana (Tomefa, Torgahkope/Adakope and Manheam). Recommendations from the research and following in-depth discussions with participants included:
1) Improve sustainable access on therapeutic and geographical coverage (including out-of-school children and at-risk adults as well as CHPS (Community-based Health Planning & Services).
2) Provide of alternative water & sanitation systems through engaging community water and sanitation NGOs and District Assemblies.
3) Explore community-led approach for treatment: key for sustainability.
Ms Vida Kukula, the COUNTDOWN social science researcher from DHRC, gave a presentation titled – 'Assessing the Knowledge and Understanding of Community Members and Health Professionals on Female Genital Schistosomiasis: Baseline Exploratory Study in Shai-Osudoku District'. She established that the study concluded that there was a lack of knowledge and understanding of FGS and this was also evident in all the literature reviewed. 
Ms Selase Adjoa Ofori, a research assistant from the Dodowa Health Research Centre (DHRC) gave a presentation on the social science component of the work addressing 'Contextualizing Lymphatic Filariasis Hotspots in some districts in Ghana'. The research was led by Ms Irene Honam Tsey who conducted the fieldwork and analysis. The major recommendation from this project was for the Lymphatic Filariasis Control Programme to move beyond using only Mass Drug Administration (MDA) and be embedded within the health system to ensure all the affected groups are reached.
Edward J. Tettevi based at the Biomedical & Public Health Research Unit at CSIR – Water Research Institute presented on 'Lymphatic Filariasis Elimination within reach'. The main aim of this study was to assess the efficacy of MDA, improve access to MDA for the most vulnerable group, incorporate molecular xeno-monitoring during transmission assessment surveys (TAS); and finally, to assess the impact of seasonal migration on LF persistence. Key recommendations were for improvements to the MDA programme focusing on getting adequate and constant coverage in the affected communities, considering regional differences in people's movements and the availability of community members during drug distribution. In addition, molecular xeno-monitoring was requested to be incorporated into TAS, to increase its sensitivity.
To support the team in Ghana, two colleagues from Liverpool School of Tropical Medicine, Dr Rachael Thomson – the COUNTDOWN Programme Director and the Communications & Research Uptake Officer – Ms Pamela Bongkiyung were in attendance.
Following discussions and contributions from participants who were active during meeting, the proposed recommendations were adopted as key items to adapt and ensure improved NTDs Programmatic planning in the future. To read more on the recommendations, you can download and read report attached top right.