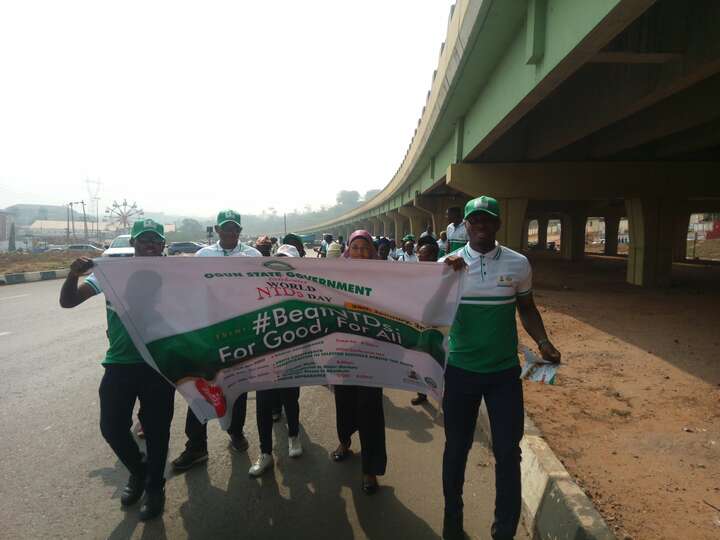 30th January 2020 marked the first international World NTD Day and there were various activities celebrating and promoting the occasion.
In the lead up to World NTD Day, COUNTDOWN shared '12 Days of NTDs' on Twitter, which consisted of 12 images focused on factors affecting healthcare access for people affected by disease and disability, from a patient and provider perspective. The images were used to share findings in stakeholder meetings in Abuja and were part of a recent COR-NTD funded project in Nigeria- they can be seen here in full.
On 29th January, LSTM held a seminar showcasing the new Centre for Neglected Tropical Diseases (CNTD) structure which now includes the COUNTDOWN programme. The seminar can be viewed here. Rachael Thomson gave an overview of COUNTDOWN activities.
On the same day, COUNTDOWN colleagues in Ogun, Nigeria took part in awareness walks in partnership with the Ogun state government. The purpose of these walks was sensitisation to NTDs and took place in strategic places within the state.
On official World NTD Day 30th January, the World NTD Day Global Webinar was held by the Access and Delivery Partnership (ADP)- over 140 people joined from tens of countries. The basis of this webinar was the discussion paper from ADP 'The gender dimensions of neglected tropical diseases' which was authored by Kim Ozano, Laura Dean, Eleanor MacPherson and Sally Theobald from COUNTDOWN, amongst others. A factsheet was also created from the discussion paper and can be viewed here.

On 4th February, Rachael Thomson attended a Guardian roundtable discussion on NTDs in Geneva, Switzerland on behalf of COUNTDOWN. The theme of the discussion was 'NTD 2020- Is enough being done to combat neglected tropical diseases?' and a summary of the session can be found here.