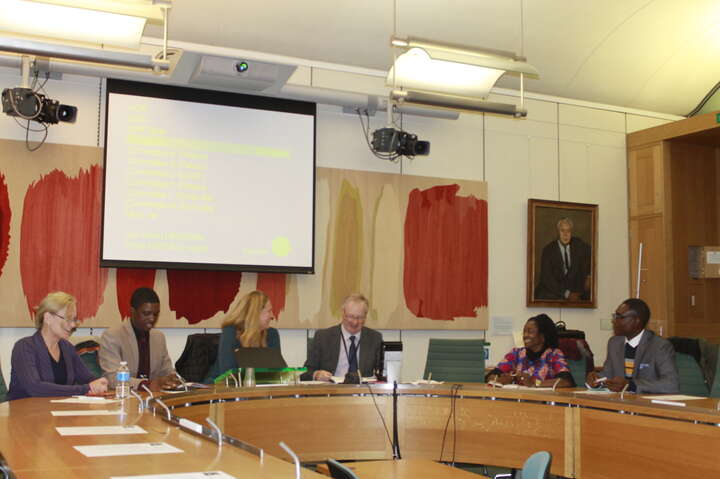 COUNTDOWN partners from Nigeria and Liberia, joined by Liverpool School of Tropical Medicine partner - CNTD  headlined the All Party Parliamentary Group on Malaria & Neglected Tropical Medicines (APPG) discussions which was themed 'Leaving no one Behind: Inclusion, Integration & Sustainability. Health Systems, NTDs & Malaria Programmes'. It was attended by members of parliament, global health practitioners, NGOs, academia, LSTM COUNTDOWN colleagues, Sightsavers partners and interested partner collaborators and people in the diaspora.
This meeting took place in the Wilson Room at Portcullis House, House of Commons on Tuesday, 16th October 2018 between 18:00 – 20:00. Jeremy Lefroy, MP (Member of Parliament) who is Chair of the APPG on Malaria & Neglected Tropical Diseases (NTDs) introduced Professor Sally Theobald who led the session. 
In her opening statement, Professor Theobald highlighted the just concluded Health Systems Research Conference that took place in Liverpool and discussions from there around community health systems, multisectoral action and leaving no-one behind. She urged all to link debates from #HSR2018 to NTDs; and the critical importance of NTDs to universal health coverage and the Sustainable Development Goals. 
Mr Karsor Kollie, the NTD Country Director & the COUNTDOWN Programme lead for Liberia kickstarted the presentations with 'Health system Strengthening through integrated case management of Neglected Tropical Diseases in Liberia'. The audience learnt of the challenges faced in integrating services such as rough terrain, vertical programmes not responding to health needs due to donor restrictions and capacity strengthening. All of this made more challenging with hard to reach communities and poor infrastructure.
Mr Okefu Oyale Okoko, the Assistant Director/Head, Integrated Vector Management Branch, for the National Malaria Elimination Programme (NMEP) at the Nigeria Federal Ministry of Health (FMoH) enlightened the audience on 'Health Systems for all: Cross-learning from the NTD Programme to the Malaria Programme' exploring the Nigeria experience. Dr Luret Lar tackled the issue of 'Maximising community engagement in Nigeria: Participation as a research and implementation strategy'. Dr Lar emphasises community engagement is key and this was core to the participatory research process undertaken by COUNTDOWN partners - Sightsavers in Kaduna in the North West of Nigeria and Ogun in the South West. 
Dr Louise Kelly-Hope who leads the Monitoring & Evaluation Operational Research at the Centre for Neglected Tropical Diseases (CNTD) at the Liverpool School of Tropical Medicine focused on Lymphatic Filariasis (LF), a leading cause of disabilities around the world.CNTD, the audience learned, uses the Global Programme to Eliminate Lymphatic Filariasis (GPELF) Strategic Framework to guide activities including the use of innovative SMS data collection tool which helps to link health workers to patients. Thanks to this reporting tool, more than 27000 patients of LF have been reported across the 7 countries where CNTD works, with 19,000 health workers trained on lymphoedema care. 
To read more about the panel, please read the attached report.