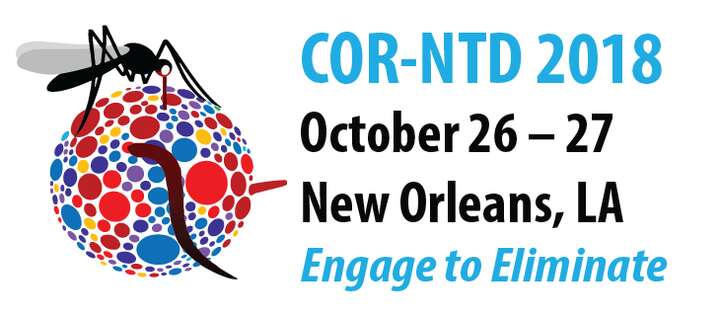 COR-NTD meetings are closed and attendance is by invite-only.
It takes place each year in conjunction with the American Society of Tropical Medicine and Hygiene conference, with participation from researchers, the World Health Organization, country program managers, implementers, and donors. These experts gather in breakout sessions to discuss issues addressing the selected theme for the meeting. 
This year's theme is 'Engage to Eliminate'. 
COUNTDOWN will participate in the following sessions and present on the highlighted areas:
Friday, 26th October 2018
SESSION: Behaviour Change for MDA, WHO Targets, WASH & Morbidity
Location: Room 1D
Time: 1:00pm – 4:00pm
Prof Russell Stothard & Dr Jutta Reinhard-Rupp
Saturday, 27th October 2018
SESSION: Shrinking the Map for Schistosomiasis
Prof Louis Albert Tchuem-Tchuenté & Dr Fiona Fleming
Time: 9:00am – 12:00pm
Location: Room 2C
SESSION: Aligning NTD programmes with Universal Health Coverage: Lessons from research
Presentation: Ensuring NTDs really are the litmus test for UHC: understanding and addressing who is left behind in NTD service provision (Ms Laura Dean)
Time: 9:00am – 12:00pm
Location: Room 2I
SESSION: Community engagement: practices for evolving contexts (Moderators: Dr Rachael Thomson & Dr Sunday Isiyaku)
Time: 1:00pm – 4:00pm
Location: Room 3H
Presentation 1: Community engagement emergent contexts (Dr Theresa Hoke, FHI360, USA)
Presentation 2: Participation as a research and implementation strategy in community engagement: The Nigeria Experience (Dr Luret Lar, Sightsavers Nigeria)
Presentation 3: Putting research into policy and practice: Development of the integrated communications strategy- using research to inform policy in Liberia (Mr Anthony Bettee, Ministry of Health, Liberia)
SESSION: Equality and Equity of NTD interventions
Time: 1:00pm – 4:00pm
Location: Room 3I
 Presentation 2: Case Study One – Focus will be on key challenges in achieving gender equitable NTD programmes with specific focus to PC/MDA NTDs and will involve examples from Nigeria, Liberia, Ghana  (Prof Margaret Gyapong, University of Health and Allied Sciences, Ghana)
Presentation 3: Case Study Two - In-depth case studies with persons affected by Leprosy, Buruli Ulcer, Lymphatic Filariasis and Onchocerciasis and their families in Liberia. (Laura Dean Liverpool School of Tropical Medicine, UK)
To find out more on the programme, visit - http://www.cvent.com/events/cor-ntd-meeting-2018/agenda-b8e14c8624f4481f80dee7b44a777c03.aspx